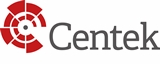 Centek Inc.
Centek Inc.
Centek's mission is to enable safer and more productive access to energy, one well at a time. Our U.S. based operations began in Oklahoma City in 2012. Centek designs, markets and manufactures innovative, premium oilfield centralizers and stop collars that are used in the cementing process of oil well construction. When drilling oil and gas wells it is vitally important to ensure competent barriers exist. Centralizing wellbore tubulars promotes efficiency, productivity and reduces environmental risks through effective zonal isolation. Centek's products have the reputation of being the industry benchmark for quality and reliability. Our facilities are recognized as the industries best when it comes to safety and customer service. Our employees are engaged and participate in a continuous improvement management style.
Purpose
Centek enables safer and more productive access to energy one well at a time.
Vision
To deliver the highest quality solutions, we are the leader in our markets and recognized as on of the world's leading oil and gas brands.
Mission
Be the preferred Global provider of a full line of Casing Accessory products and services to Service companies and End Users
Additional Culture Details
At the heart of our success is our culture. We believe if we do right by our people, success will follow, and it has. Our company culture is built on family, trust, teamwork, empowerment, mutual respect, integrity and opportunity. Our commitment to our core values goes beyond our four walls as we are also active supporters of our community. At Centek, our pursuit of excellence drives our continuous improvement philosophy, and our training, education and development of our employees. These essential elements are the foundation of our achievements which are being recognized as examples of enterprise excellence, as demonstrated by numerous requests for visits, plant tours and presentations.
Values
Imagination

We are not constrained by that is possible today, instead we are inspired by what could be possible tomorrow.