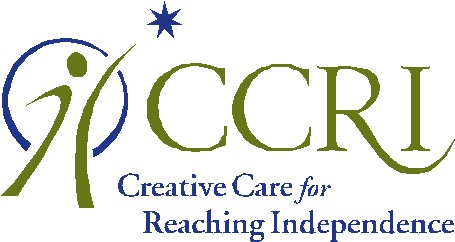 CCRI Inc.
CCRI Inc.
As Moorhead's largest non-profit organization providing support services to people with disabilities, CCRI has been helping people live more independently for more than forty two years. We provide community based programs including 24 hour support, mental health services, independent living skills training and specialized supports to people of all ages with disabilities. CCRI's team of professionals realize more than ever how important it is to help people discover who they are and the goals they have. We focus on ability rather than disability. A disability shouldn't define someone. It's merely something to plan around while helping someone reach their goals. The vision and hard work of our dedicated team members continually ensure there is no status quo at CCRI. We are constantly finding innovative ways to provide high-quality services that support more than 450 people in the most efficient manner possible.
Purpose
CCRI provides supports services to help people with disabilities and their families achieve more independence by focusing on a person's abilities rather than disability.
Vision
To provide an environment where people of all abilities may exprience life's possibilities.
Mission
To enhance and enrich the lives and learning of people with disabilities.
Additional Culture Details
We train our team members to have fun. From day one, we urge our team members to embrace the day! Opportunities that expand beyond basic care become the norm. Our company endorses the FISH! Philosophy© and teaches the four basic principles: Be There, Play, Make Their Day, and Choose Your Attitude. This creates a positive environment where life is made richer for those we support and their team members. In some jobs, time seems to drag on, but not at CCRI.

Our guiding principles shape the way we provide services and form the basis for day-to-day operation—everything from evaluations to budgeting is based on being Person-Centered, Team-Oriented, and Professional.
Why is culture so important? Because the people we support deserve the very best! From camps to adaptive leagues, our culture fosters an environment focused on opportunities rather than disability—we take that very seriously.

Values
Person Centered

We believe in providing high-quality services tailored to the goals and desires of each person we serve throughout their life.
Company Snapshots