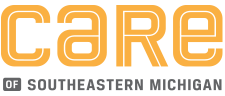 CARE of Southeastern Michigan
CARE of Southeastern Michigan
CARE of Southeastern Michigan is a non-profit organization established to provide solution focused services in the community. CARE of Southeastern Michigan promotes prevention by providing educational resources to avoid negative influences. We also create pathways by linking people with treatment and support, as well as help individuals to discover purpose to move past life's challenges. Each year we impact the lives of over 40,000 individuals from early childhood to older adults through our diverse programming.
Purpose
Since 1977, CARE of Southeastern Michigan has been a leader in substance use prevention and recovery services in Macomb County. An accredited and award-winning behavioral health nonprofit rooted in the community, CARE provides real-life solutions from early childhood to adulthood so we can live healthier lives.
Vision
Our vision is a healthy community informed about comprehensive health services aimed at reducing stigma, promoting recovery, and empowering people.
Mission
Our mission is to strengthen resiliency in people and their communities through prevention, education, and services that improve the quality of life. Your addition to CARE of Southeastern Michigan will allow the agency to further reinforce and carry out this mission.
Additional Culture Details
CARE of Southeastern Michigan's values are at the core of what we do and how we treat our staff, board members, volunteers and the people we serve. CARE's inclusive culture begins with the Board of Directors. The board meets the Recovery Community Organization standards.

Values
Respect

We believe every person has intrinsic value and is worthy of our respect.