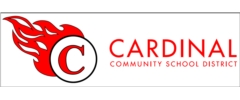 Cardinal Community School District
Cardinal Community School District
When looking at the changes that have taken place at Cardinal over the past few years, It is amazing to see the gains the district has made in terms of academic progress, school culture improvement, and facility overhauls. The community pride in the school has grown leaps and bounds over the past several years.

If a person walks the halls of Cardinal or has the opportunity to visit several classrooms, you'll find an environment of engaged students working with a teacher who understands the importance of both strong pedagogy and strong relationships. You'll find students engaged in cutting edge technology and learning to utilize these tools to increase their learning. You'll find students interacting with research-based learning strategies carried out by educators with consistent quality. It is great to see students get on and off the school bus with smiles on their faces day after day. It is equally wonderful to see teachers doing the same when arriving and leaving. The improvement in school culture and staff relationships is an area of vast improvement.
Employees
147 US Employees
Industry
Primary / Secondary Schools
We're Hiring!
Company Snapshots