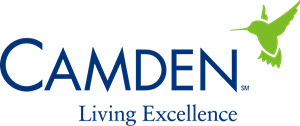 Camden Property Trust
Camden Property Trust
Purpose
Camden's positive corporate culture is the most powerful influence affecting our success. Our culture is all about our people – people who share a set of values that define who we are and how we conduct our business.
Vision
We promise exemplary levels of customer service and great management, which can only come from an organization that listens to and understands the needs of each customer.
Mission
Guided by our values, we are committed to being the best multifamily company by providing Living Excellence to our customers.
Additional Culture Details
Camden brings fun into the apartment business! No, really, "have fun" is one of our core values. We are also committed to improving the lives of our customers, team members and shareholders while building, owning and managing 165 multifamily communities across the country. Camden is structured as a Real Estate Investment Trust and our shares are traded on the New York Stock Exchange – which means you can share in the fun, and the profits, as a shareholder!
Values
Work Smart

We embrace innovation and encourage one another to better serve our customers instead of defending the way it's always been done.