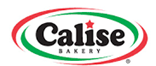 Calise & Sons Bakery
Calise & Sons Bakery
For more than 115 years, the Calise family has been proudly baking and delivering the freshest, best-tasting bread and rolls in the region, earning the reputation of the highest quality specialty bakery in the Northeast. We pride ourselves on maintaining our founding values of quality, freshness and food safety that our loyal customers have come to know and expect.
Mission
Our unwavering commitment is to produce high quality bread and rolls in a safe and clean work environment while delivering excellent customer service at a competitive price.

We shall continue to strengthen our relationships with employees, customers and vendors as we operate with trust and integrity.
Values
Calise Core Values

Calise Core Values mean that we can accomplish more together than anyone can do alone. Our Core Values are who we are, and wo we strive to be going forward. Below are our Core Values:

Communication: Good Communication is listening well and conveying thoughts clearly to others.
A Team Player: is always willing to help fellow workers and the company regardless of their position.
Lead with Respect: Treat others as you would want to be treated; appreciate others' unique qualities and diversity
Integrity: Always be trustworthy and reliable.
Safety: Always look out for the safety of yourself and others at every level.
Excellence: Exhibit a commitment to high standards in all tasks
Company Snapshots