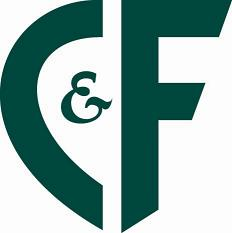 C&F Financial Corporation
C&F Financial Corporation
C&F Financial Corporation is a bank holding company that was incorporated in March 1994 under the laws of the Commonwealth of Virginia. The Corporation owns all of the stock of Citizens and Farmers Bank (C&F Bank), which is an independent commercial bank chartered under the laws of the Commonwealth of Virginia. C&F Bank originally opened for business under the name Farmers and Mechanics Bank on January 22, 1927. The Bank has the following five wholly-owned subsidiaries, all incorporated under the laws of the Commonwealth of Virginia:

C&F Mortgage Corporation and its wholly-owned subsidiary; Certified Appraisals LLC;
C&F Finance Company;
C&F Wealth Management Corporation;
C&F Insurance Services, Inc; and
CVB Title Services, Inc.
Purpose
Focused on you! Our purpose, our promise is simple. We focus on you. C&F was built on the simple truth that when we pay attention to people and the community, we can make a difference.
Vision
It is our aim to be the premier financial services company in the markets we serve.
Mission
It is the mission of the directors, officers, and staff to maximize the long-term wealth of the shareholders of C&F Financial Corporation through C&F Finance Company, Citizens and Farmers Bank and its other subsidiaries.

We believe we provide a superior value when we balance long-term and short-term objectives to achieve both a competitive return on investment and a consistent increase in the market value of the Corporation's stock.

This must be achieved while maintaining adequate liquidity and safety standards for the protection of all of the Corporation's interested parties, especially its depositors and shareholders.

This mission will be accomplished by providing our customers with distinctive service and quality financial products which are responsive to their needs, fairly priced, and delivered promptly, efficiently and with the highest degree of accuracy and professionalism.
Additional Culture Details
At C&F we have a culture that strives to support our employees and develop our staff beginning on their first day with us. We are a team that fosters healthy relationships through a culture of respect, understanding and dignity. We enjoy celebrating and recognizing accomplishments and sharing in each other's personal and professional achievements. We invest in our employees development and offer opportunities to grow and advance within each of our companies. Our senior management is always present and involved in furthering the successes of our employees.
Values
Excellence

Excellence is the standard for all we do
Employees
662 US Employees
We're Hiring!
What employees are saying
I get to do the type of work that I love, that's challenging, rewarding, and offers me opportunities to grow my knowledge and skillset. My manager and teammates are a joy to work with and the culture of the company is so genuinely nice, that I'm grateful to be a part of it!
I love my job because of C&F's caring nature. The bank and its employees truly care about its customers, its community, and its employees. You can see this in the "talk to the top" comments from our customers, in the community events the bank is involved in, and the way we as employees support each other.
I have been with the company for many, many years, and seen first hand how they look out for their employees.
I feel like I make a difference each day and am well qualified to do what I do. I also feel my personal and work life balance is fostered with C&F.
I love my career and what I do! C&F has always helped me grow and achieve my career goals. Our leaders throughout my career so far have shown they are interested in me and what I want to achieve. They set excellent examples of what I need to do to continue to get to the next levels of my career and they supply the support and training to help me get there.
I am challenged each day. There is something new to learn each and every day. My supervisor is kind and wants me to be successful. I feel I am part of a team and we are all here for the same reason. It's fun.
There is no other company like C&F. I have worked for mutiple companies and they do not compare.
Everyone is always helpful, and we work as a team. I also love my job because I know I can support and be there for my daughter when she needs me to be. I love that I have the opportunity to grow and the support as well. I just love the atmosphere when I come to work and our customers/coworkers. I also love what C & F stands for.
Company Snapshots