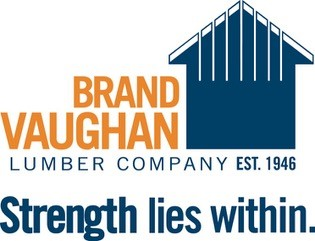 Brand Vaughan Lumber Co.
Brand Vaughan Lumber Co.
In 1946, our founders R.L. Brand & Cy Vaughan joined forces with a common goal to build a business reflecting a personal commitment to quality & service in SW Atlanta. These fine men set out on a mission to service the building industry through core beliefs that we strive to continue to embody today – honor God, maintain humility, live by the Golden Rule, focus on being the best rather than the biggest, & treat all people with whom we interact with respect. We believe that our reputation is on the line with every shipment, every invoice, and every interaction throughout our entire organization, & are committed to maintain our reputation in the industry. We believe in being service oriented, measuring how we do and continually working to improve our value to the building industry. We believe in being innovative & efficient so that our values lead to a better experience for our customers. We believe our team will care more & in turn will take better care of our customers.
Purpose
To build uncommon relationships with our team members.
Vision
Focus on delivering extra mile service through our entire channel, through creating a servant mentality with our vendor partners, customers, and team members. We strive to grow our business not by trying to be the biggest, but by being the best, and when we do this, our customers will demand that we grow with them.
Mission
Deliver extra mile service and leave a positive impression through our commitment to the principle, "Strength Lies Within."
Additional Culture Details
Our culture is one of team member focus, focusing on organizational health by engaging our team in collaboration in order to have an innovative and fun culture rooted in trust and cooperation, as well as treating each other like family, meeting the needs of our team members while holding each other accountable through giving full measures of truth and grace.
Employees
241 US Employees
Industry
Building Construction
We're Hiring!
Company Snapshots