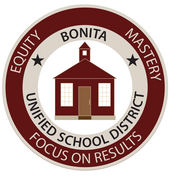 Bonita Unified School District
Bonita Unified School District
The Bonita Unified School District serves approximately 10,000 students in the communities of San Dimas and La Verne in grades TK through 12, and an Adult Transition program. Programs are delivered in eight elementary schools, two middle schools, two comprehensive high schools, one
continuation high school, and an alternative program serving a variety of needs. Approximately 39% of BUSD students receive free or reduced meals, about 9% of students receive services through an IEP, and about 6% of students are English Learners. BUSD also serves a large population of students in foster care, mainly from four group homes in the community. The district currently enjoys ten California Distinguished Schools, four Gold Ribbon Schools, and one national Blue Ribbon School.
Purpose
To Prepare Every Student to Live Their Purpose
Vision
To lead all comprehensive school districts in the region in academics, activities, athletics, and arts
Mission
For the students in our care, and in partnership with the community, we will create a safe, challenging and comprehensive learning environment that will shape character, nurture intellect and build skills for success in an ever-changing world.
Values
Equity

Equity is ensured through individualized support.
Company Snapshots