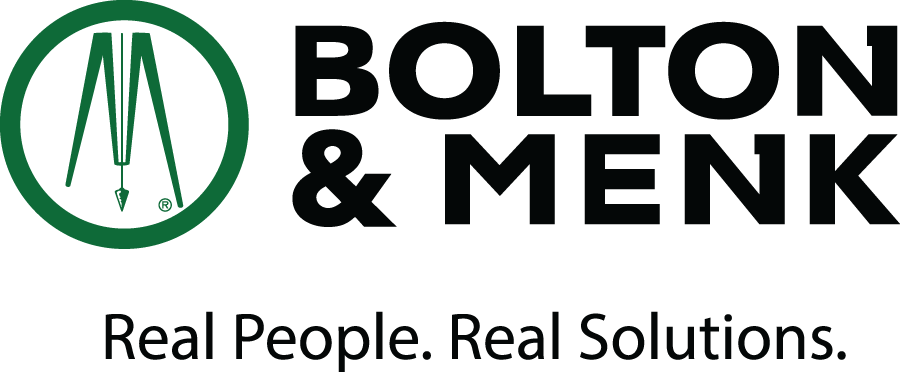 Bolton & Menk, Inc.
Bolton & Menk, Inc.
Our commitment to providing public infrastructure solutions began in 1949 with two hard working Midwesterners—John Bolton and Martin Menk. They saw people in their surrounding communities who had dreams of a bright future, a desire to grow, and a common challenge of aging infrastructure. Thanks to the solid foundation built by John and Martin, our core values remain the same today. We believe that all people deserve to live in safe, sustainable, and beautiful communities – it's why we get out of bed in the morning.

Today, Bolton & Menk has more than 850 employees throughout Minnesota, Iowa, North Dakota, North Carolina, and South Carolina providing services to more than 400 communities and agencies. Our professional staff includes more than 250 engineers, planners, landscape architects, and surveyors.
Purpose
We believe all people should live in safe, sustainable, and beautiful communities.
Vision
We take pride in our commitment to doing our part to provide safe, sustainable, and beautiful communities - wherever located and however defined.
Mission
We provide solutions to public infrastructure challenges with a desire and commitment to improve communities. We make progress by listening to stakeholders to develop the best solutions for their needs while treating everyone with kindness and respect.
Additional Culture Details
The culture within Bolton & Menk is all about comradery and enjoying your job every day. We work hard to take care of the people that we're working for. We also take care of each other, spend time together, and laugh along the way.

Giving our team members a platform to influence company decisions is at the core of how we operate. We have established a diverse set of thought-influencing teams that directly contribute to decisions made by our executive leadership. Our thought influencers carefully inspect every piece of the puzzle before placing it to make sure it's the right fit. Staff input on company decision-making expands individual employee opportunity and impacts the real solutions we provide to help our clients succeed.

Along with regular firmwide and office-centric culture events, we get dressed up once a year for our Annual Party. Our staff and spouses look forward to attending every year as we show our appreciation for their hard work, introduce new staff, celebrate service milestones, and honor The Founder's Award recipient.

We take a personal interest in the work being done around us, and have fun along the way! The relationships with our clients and coworkers are important to us, many times evolving into friendships.
Values
Clients

It is our mission to help clients realize their vision: We invest in long-term relationships. We listen to client needs. We research the issues. And we provide effective solutions with exceptional service.
Company Snapshots