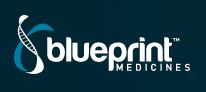 Blueprint Medicines
Blueprint Medicines
Blueprint Medicines is a global precision therapy company that invents life-changing therapies for people with cancer and blood disorders. Applying an approach that is both precise and agile, we create medicines that selectively target genetic drivers, with the goal of staying one step ahead across stages of disease. Since 2011, we have leveraged our research platform, including expertise in molecular targeting and world-class drug design capabilities, to rapidly and reproducibly translate science into a broad pipeline of precision therapies. Today, we are delivering approved medicines directly to patients in the United States and Europe, and we are globally advancing multiple programs for systemic mastocytosis, lung cancer and other genomically defined cancers, and cancer immunotherapy.
Purpose
At Blueprint Medicines, our patients are people with lives and families, hopes and dreams, birthdays, weddings, hobbies and interests. We know many of them by name and we know their stories. We show up every day, driven by the commitment of delivering the most precious gift available to our patients: time and freedom to lead healthier, longer lives without fear, illness or limitations. The opportunity to change the course of people's lives is what fuels the fire within us to explore, experiment, persist and deliver.
Vision
We aim to extend our position as a global precision therapy leader and expand our impact to improve the lives of increasingly broad populations of patients. We help patients stay one step ahead with therapies that adapt to disease evolution. This includes solving for treatment resistance and intractable sites of progression, as well as pioneering innovative combinations to prolong benefit
Mission
Blueprint Medicines aims to make real the promise of precision therapy to improve and extend life for as many people with cancer and hematologic disorders as possible.
Additional Culture Details
We're better TOGETHER. There is no room for silos here at Blueprint Medicines. Connection and collaboration across disciplines is critical to accomplishing our mission. Creating space for diverse perspectives and backgrounds makes us stronger because we are more creative and more successful when fresh voices are part of the conversation. We're thoughtful in our interactions, respectful toward one another and we always assume positive intent.

We live COURAGE and INTEGRITY. We are never ones to back down from a challenge and when we see an opportunity to make a difference, we go for it. Taking risks, pushing boundaries and defying obstacles are key to achieving great things at Blueprint Medicines. Doing the right thing and setting a high bar puts the promise of precision medicine in our hands, which is why we own our decisions and admit our mistakes. We celebrate our wins and see failures as learning opportunities. Admitting when we don't know something is the pathway to discovery – we are lifelong learners at heart.

We are HUMAN. In order to remain focused on what matters most – providing time to our patients – we believe in showing up as we are and embracing our imperfections. When we're true to ourselves and empowered to lead, we learn more and go farther. We think on our feet and make critical decisions quickly, and no matter your role or title, you're encouraged to take risks, make decisions and pave your path.
Values
Patients First

We remember, first and foremost, that the quality of life of our patients – and those who love them – both now and in the future – are why we're here.
Headquarters
Cambridge, MA
Employees
450 US Employees
We're Hiring!
Company Snapshots