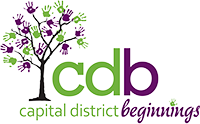 Capital District Beginnings, Inc.
Capital District Beginnings, Inc.
Capital District Beginnings is an educational Agency providing services primarily for pre-school children with special needs through collaborative partnerships in the Capital District area. Our philosophy is to educate children with disabilities in their natural learning environments through integration.
Purpose
Capital District Beginnings is a NYS Education Department approved Preschool Special Education Service Agency as well as an Evaluator and Provider of Early Intervention and contracted school-age Special Education Services. Beginnings currently provides a wide array of special education and therapy services to children in their homes or in one of over 70 different child care centers, preschools and schools including Universal Pre-Kindergartens and Head Start programs. Established in 1984 Beginnings has become one of the largest early childhood special needs providers in the Greater Capital Region. However, we may not be easy to recognize due to our unique model of integration. Instead of bringing children with special needs to separate centers, we provide services where children are typically living, learning and playing. We accomplish our mission of true integration by supporting and blending into existing early childhood programs and community settings through long standing education and community partnerships.
Vision
We are able to provide a variety of individualized, high-quality educational and therapeutic services for children from birth to five-years-old with special needs, and also provide support to their families. Beginnings uses a child-centered philosophy incorporating learning through play. We appreciate the opportunity to collaborate, support and strengthen existing high-quality Pre-School and Universal Pre-K programs through strong, collaborative teaching partnerships.
Mission
Capital District Beginnings prides itself on its quality of services, true integration model, diversity of service options and strong reputation. Although we are a large, decentralized Agency, we strive to empower and value all employees and often refer to ourselves as the "Beginnings Family". Through the use of teams and regional clusters we create smaller, supportive family style working environments. We work hard to attract and retain highly qualified teaching and therapy professionals with the clear understanding that our staff are our Agency. As an Administration, we understand our role is to support our staff who provide these important services to children and their families.
Company Snapshots