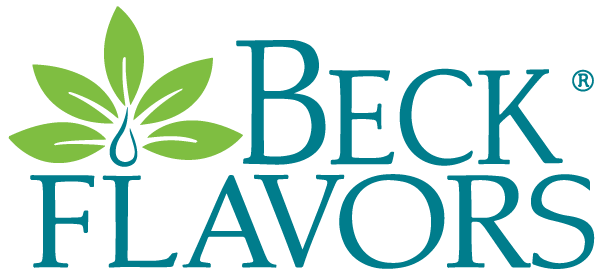 Beck Flavors
Beck Flavors
The Beck Flavors family provides the ultimate strategic partnership for our customers through innovative and quality custom flavor solutions.
Purpose
For over a century, Beck has been creating custom flavors for clients we call friends. With world-class scientists, cutting-edge technology, and unmatched customer service, we have the capabilities of any competing flavor house with the responsiveness and personal attention of a family.
Vision
The go-to, full-service flavor house partnering with market leaders from molecule to shopping cart, there's BECK and then everyone else.
Mission
The Beck Flavor's family provides the ultimate strategic partnership for our customers through innovative and quality custom flavor solutions.
Additional Culture Details
The customer is king.
Strategic solutions & relationship to customer.
Beck is family.
Energized experience.
Fast, creative, accurate, responsive.
Values
Brand Manifesto

Beck Flavors.
Established in 1904.
But at over 100 years old, we look pretty good.
Because generations of innovation have taught us that while palettes change,
While tastes and trends ebb and flow,
One thing remains constant,
Customers deserve to be forever heard.
This attitude of openness and collaboration,
Is the starting place of any great relationship.
Only then can we advance industry with technology,
To keep our digital pulse on the latest trends
And continuously incorporate future innovations to help eliminate human error.
It is here at the crossroads of our natural inclination towards hospitality and warmth
And our relentless pursuit of what's achievable in flavor development,
That we say to our customers,
"You have a friend at Beck."
And to our employees,
"You have a family here."
Beyond expectations.
Beyond service.
Beyond innovation.
Because there's good.
There's better.
And then there's Beck.
What employees are saying
I am allowed to share my thoughts and ideas the same as any other employee. I am encouraged to provide new ideas and try new things. I have a second family at Beck and I know that I can trust my coworkers and management.
My position has allowed me to apply my greatest strengths and interests to Beck Flavors. As a result, I've grown as a professional alongside with the company.
I am always learning new things and the exponential growth leads to new interdepartmental possibilities.
I am empowered to make Beck Flavors the best company possible. Everyone works together to solve/prevent problems to ensure our customers are happy and taken care of.
I can work freely and do the things I need to do that are necessary to get the job done every time and the employees are very thankful and respectful of my job the work I do every day from the President to the warehouse every one is a class act at Beck and that's worth its weight in gold to me.
This is the best place I have ever worked. The owners work very hard to make this an employee friendly company to work for.
I get to work with a fun and diverse group of people. Also because we make fun products that are innovative and part of an important industry.
It is so fun to work. Different ideas every day, never the same day twice, and seeing a project that we worked on at the grocery store shelf is so rewarding.
Company Snapshots