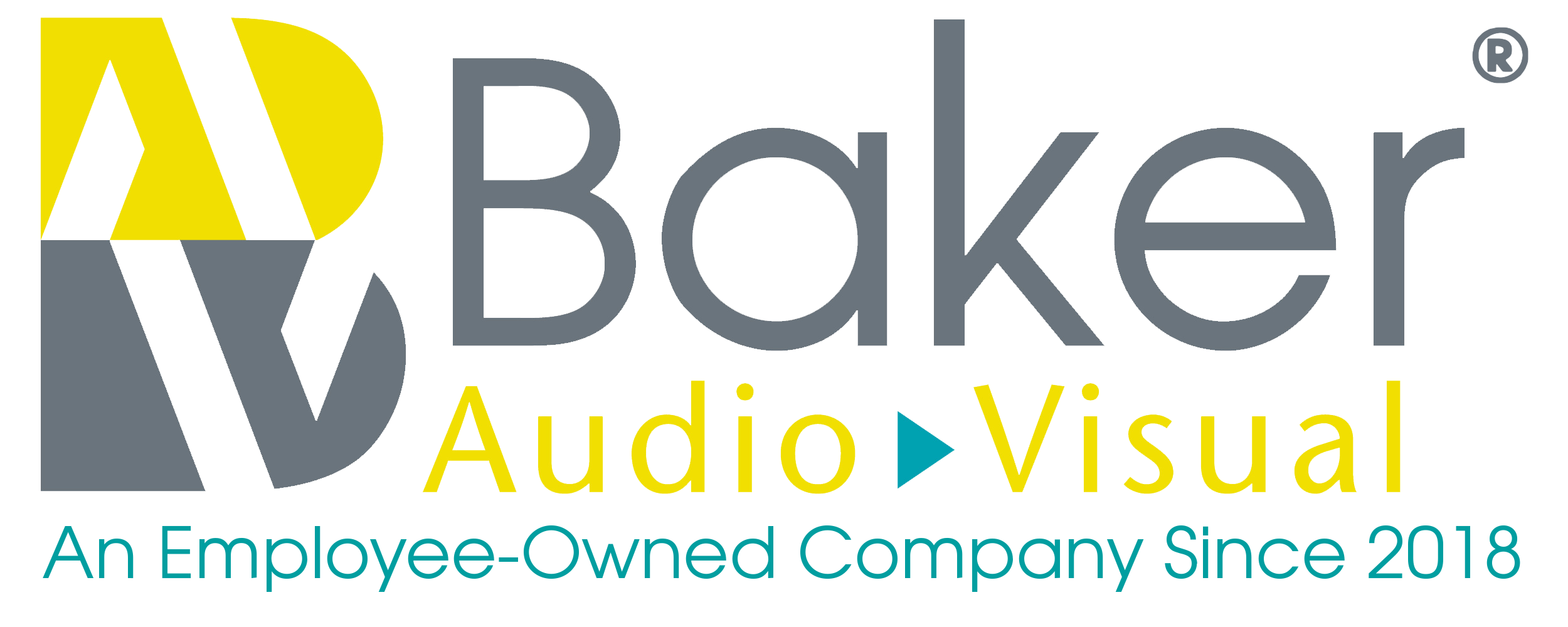 Baker Audio Visual
Baker Audio Visual
Since 1953, we have maintained a core competency and focus on audio and video related fields. We are the longest standing audiovisual integrator in the Southeast, proving our long-term commitment to our clients and industry partners. At points throughout Baker's history, we have adopted technologies that complement our audiovisual business without ever losing sight of our core competencies.
The validation of our focus in the audiovisual field is evident in the work we do every day. We know what our strengths are and what they are not. That is why our focus has always been specific to the audio and video fields in verticals such as corporate interiors, higher education, governmental facilities, sporting arenas and houses of worship. We pride ourselves on being a full design/build firm offering custom design, integration and long-term service support. Most importantly, we believe in doing what is right. No matter what that takes, we will never sacrifice our integrity at the expense of our clients.
Purpose
We aim to enhance the everyday operations of the already successful companies we work with through the implementation of technology.
Vision
We believe in the power of technology to bring people together and want to provide our customers with creative solutions that will allow them to connect with clients, employees, and fans alike in a completely immersive experience.
Mission
Provide our customers with the best customer service in our industry. Deliver the most creative and progressive solutions in our industry that directly benefit our customers. Provide our employees the absolute best working environment possible. Positively impact the communities and environments where we operate and live.
Additional Culture Details
When we think about what makes up the culture here at Baker Audio Visual, one of the most important aspects is making sure that we are providing the absolute best customer service to our clients. They are the reason that we are able to get up every day and do what we do, here. When we are successful at what we do, we are able to help our clients achieve their goals. In addition to providing great customer service, we strive to provide the most innovative solutions for our clients. The more we see the technology industry growing, the more we are able to provide our clients with creative, thought-provoking technology. When we meet with a client, we remain focused on their expectations and put forth the effort to ensure that we understand their business goals and how what we do can help them achieve those goals.

Baker AV also focuses their attention on their employees. We want to make sure that we are providing the best environment possible that is centered around respect, growth, opportunities for advancement, and the freedom for everyone to achieve their own version of success. Each employee has the ability to manage their own role within the company and are encouraged to further develop how that role is defined within the company. When you can have an entire office of people working together to achieve one common goal, it is truly an incredible thing.
Values
Respect

Treat everyone with the respect that they deserve; employees and clients
Company Snapshots