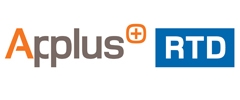 Applus RTD
Applus RTD
Applus RTD's position as a global leader in non-destructive testing and inspection services has been achieved through a focused commitment to effectively meeting customer's need with a wide range of advanced technologies and tailor-made solutions.

From project management services in new construction, asset management services in maintenance, supporting services in process management, all the way to certification, Applus RTD delivers these four essential cornerstones which are backed by essential experience, innovative technology and facilities for each and every need.

At the heart of Applus RTD are its people. Well trained employees with a strong sense of responsibility who thrive on the challenge of working independently, and that thanks to on-going in-house training programs, never stop learning and improving their skills.