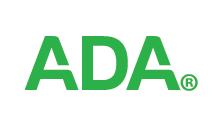 American Dental Association
American Dental Association
As the nation's largest dental association, the ADA has promoted the art and science of dentistry since 1859. The ADA powers the dental profession by providing its member dentists with resources and services that empower them to be their best. The ADA is also a trusted source of oral health information that shapes everything from health policy to clinical care.

In its public health advocacy, the Association has amplified dentistry's voice on issues affecting the nation's wellbeing, including health equity, oral cancer, and the opioids crisis. The ADA Seal of Acceptance long has been a universally respected guide to consumer dental care products, and it's one of the many ways that the ADA helps patients stay healthy in the dental chair and with daily at-home care. Additionally, The Journal of the American Dental Association, is the best-read scientific journal in dentistry.

Alongside its more than 162,000 members, the ADA staff is working toward a vision of achieving optimal health.
Purpose
The ADA powers the profession of dentistry to advance the overall oral health of the public.
Vision
Empowering the dental profession to achieve optimal health for all.
Mission
Helping all members succeed
Additional Culture Details
With meaningful purpose, motivated colleagues, and excellent benefits, the ADA strives to have its employees smiling. The company offers a range of financial and wellness benefits as well as professional development opportunities. Additionally, the ADA's Employee Advisory Community (EAC), which is comprised of staff members from each ADA division, processes and responds to employee suggestions; sponsors employee events and social responsibility activities; and makes recommendations to executive leadership on policies, programs, and employee development.
Values
Committment to Members

•    Members are the purpose of our work. We work collaboratively to serve our diverse membership and ensure the advancement of the profession of dentistry.
•    We create and support tangible products, programs and services that serve our members.
Company Snapshots