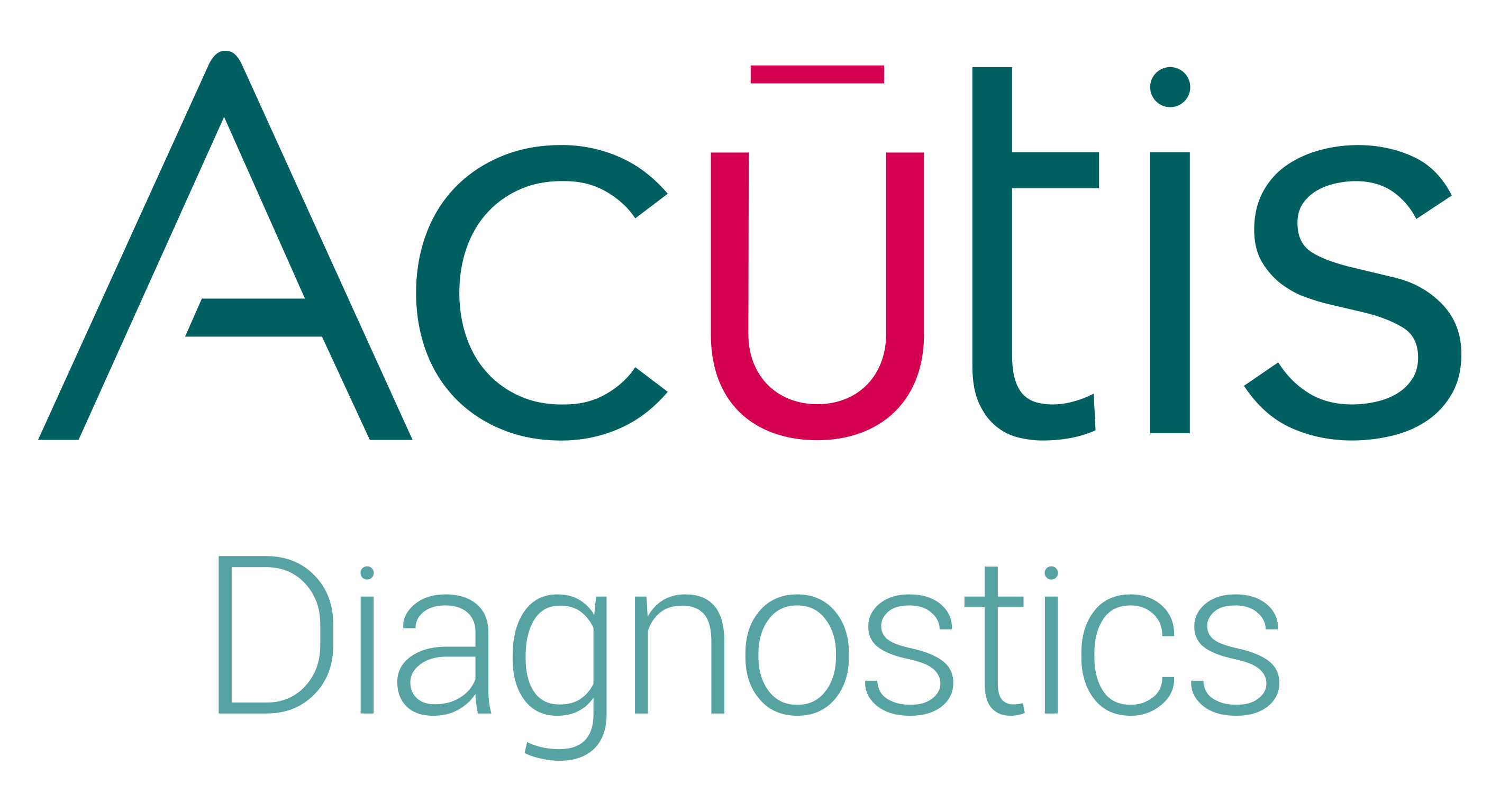 Acutis Diagnostics
Acutis Diagnostics
We have built a company with a commitment to the best science, technology and practices, all set in motion by teams of deeply committed professionals.

Acutis is a company with no gaps. No bureaucracy. No evasive hierarchy.
From our CEO engaged in strategic planning and our Senior Scientists in the lab and Support Staff at the facility, to our Sales Specialists on the road, every employee is fully accountable. Fully accessible. Completely willing to assume responsibility. So you have one less thing to worry about.
Purpose
Our goal is to provide solutions, a range of solutions, across a spectrum of medical specialties. Our purpose is as simple to state as our means to achieve them are complex: We work to advance our communities' individual and collective well-being. Providing better health care and ensuring well being, these are the goals shared by all in the industry. Our job is to provide our clients with the certainty and guidance to provide exactly that. While our work takes place behind the scenes, our role is fundamental. We do what we do mindful of the fact that our clients are tasked not simply to improve the lives of patients, but ultimately to turn patients back into persons. Toward that end, our work combines state-of-the-art technology, advanced scientific processes and the adoption of the industry's best practices, all set in motion by teams of deeply committed professionals. We have a purpose, a reason for being that transcends the laboratory. To achieve it we have built a company with no gaps. No bureaucracy. No insurmountable hierarchy. From our CEO engaged in strategic planning and our senior scientists in the lab, to support teams in our facilities and sales specialist on the road, every Acutis employee is fully accountable. Fully accessible. Our purpose is to provide the data that makes a real difference in a patient's care and to succeed, there is no place for compromise and, no tolerance for error.
Vision
Acutis is a company in motion. A leader with no attachment to the status quo. A company acquiring the skill sets, expressing the humility and demonstrating the ambition to be more than a vendor but the partner of choice. Questions of access to effective healthcare and crises related to rising healthcare costs are national, even global issues. Complexity reigns and will for the foreseeable future. As populations grow and expectations of patients rise, everyone in the industry from the nurse practitioner, physicians and hospital group, to research organizations, insurances companies and government agencies are desperate for solutions that can accommodate current pressures, while anticipating projected ones. Managing the human factor, evolving science, and technology, while practicing sound economics, are all integral elements shaping the whole of the healthcare dynamic. We believe this dynamic, this phenomenon, will continue to escalate, continue to accelerate, ultimately shaping and defining not only our industry but our culture itself. Nothing will remain untouched by the decisions we in the industry make. We also believe we will have a part of the solution.
Mission
We are a reliable resource. A trusted partner. A good neighbor. Everything we do and exactly how we do it, is done with this end in mind: Our clients will receive nothing less than our total commitment to the success of their practices and/or businesses. The Acutis Family of Companies has been and will always be an integral part of those individuals and companies we serve. We will deliver precise, actionable information to healthcare providers in every area we operate. As a matter of course, we continually expand our capabilities to address current need, while refining our expertise—through the development of new science and technology—to respond to future necessity. From clinical toxicology to biosciences we will develop and validate and, when the opportunity presents itself, we will bring new products to market.