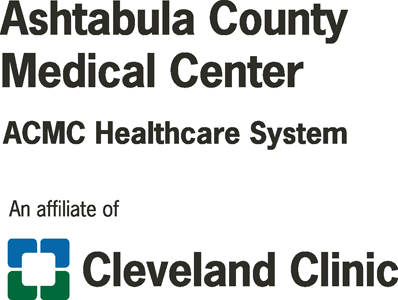 ACMC Healthcare System
ACMC Healthcare System
We take care of people. The Ashtabula County Medical Center (ACMC) is a private, not-for-profit acute care hospital providing inpatient and outpatient services for Northeastern Ohio. The 249-bed medical center is the largest in Ashtabula County and has been delivering health care services for over 115 years. Core clinical areas include: behavioral medicine, cardiology, emergency medicine, gastroenterology, general surgery, internal medicine, neurology, obstetrics/gynecology, ophthalmology, orthopaedics, orthopaedic surgery, otolaryngology, pediatrics, podiatry, psychiatry, pulmonology, radiology, urology, vascular surgery. Specialty programs include: the Cleveland Clinic Cardiac Catheterization Lab at ACMC, a six-bed Sleep Disorders Center serving adult and pediatric patients, a Wound Healing Center with four treatment rooms and two hyperbaric oxygen therapy chambers, and a skilled nursing unit.
Vision
Guided by the principles of honesty, compassion and respect, we are committed to being the provider and employer of choice in Ashtabula County by aligning our organizational strategy with the Five Pillars of Excellence.
Mission
Ashtabula County Medical Center provides quality healthcare to positively impact the health of our community.
Additional Culture Details
Principles

The mission of the Ashtabula County Medical Center is built upon a foundation of Three Governing Laws of Behavior:
1.Honesty.
2.Compassion.
3.Respect.

Values

With this foundation guiding our conduct, opinions and attitude, the mission of the Ashtabula County Medical Center is supported by our actions that reflect our commitment to the Five Pillars of Excellence:
1.Service.
2.Quality.
3.People.
4.Financial.
5.Growth.