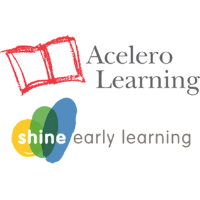 Acelero Learning
Acelero Learning
Acelero Learning Inc. is a provider of early childhood education, family engagement, and childcare services focused on closing the Achievement Gap for thousands of children and families across the country.
Our company has two business units:

Acelero Learning:
Providing Head Start services since 2001, Acelero Learning directly serves 5,000 children and families through its 50 centers in New Jersey, Pennsylvania, Nevada, and Wisconsin.

Shine Early Learning:
Launched in 2011 to expand our impact, Shine Early Learning provides strategies, tools, training, and technical assistance to early childhood educators across the country in partnership with state agencies, Head Start programs, school districts, resource and referral agencies, and other providers.
Mission
Acelero Learning's mission is to bring a relentless focus on positive family and child outcomes to close the achievement gap and build a better future for children, families, and communities served by the Head Start program.
Company Snapshots