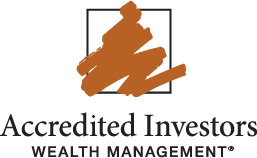 Accredited Investors Wealth Management
Accredited Investors Wealth Management
Accredited Investors Wealth Management® provides an invaluable service by pairing the breadth and depth of our collective financial planning expertise with a thorough knowledge of our clients' lives. Our services are best suited for those in the Twin Cities and connected communities around the country who value our team approach and willingness to engage in deep relationships.
Our team is comprised of professionals with wide-ranging backgrounds in accounting, law, investment research, banking, and philanthropy, all working together to craft personalized strategies for each client family. We have a profoundly collaborative culture valuing the collective "we over me" team mindset with a group of multigenerational owners serving multigenerational client families.
We created the widely acclaimed Wealth Management Index™, which guides meaningful conversations about money and values, leading to personalized and proactive planning strategies. Going through this process together empowers our clients to spend their lives wisely.
Purpose
To improve the individual and collective lives of all we serve. Clients, Colleagues, and Community.
Vision
Accredited was founded in 1987 as a partnership dedicated to the development of authentic, long-term relationships with our clients. Over the last 35 years, our firm has grown larger, but we have maintained our core values at every turn. And our own ownership structure is designed to allow us to work for our clients over the long-term – including our two founders we currently have 11 employee shareholders, all of whom share an intention to remain independent.
Mission
To be an invaluable service for our clients, created through breadth and depth of financial planning paired with a thorough understanding of our clients' lives.
Values
Mindset

Practice gratitude & compassion
Company Snapshots