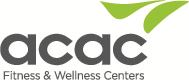 ACAC Fitness & Wellness Centers
ACAC Fitness & Wellness Centers
acac Fitness and Wellness Centers has been providing quality fitness and wellness services since 1984. Starting in Charlottesville, VA, acac opened its first Richmond location in 2005 in Midlothian. In 2012 an additional location in Short Pump opened. acac features comprehensive fitness facilities complemented by aquatics programs, personal training, medical programs, summer camps, senior fitness and wellness, kids' programs and corporate fitness programs. Often referred to in national and international industry publications as creating benchmark facilities, acac continues to break new ground in the development of fitness and wellness.
Mission
To provide a great fitness experience for members of all ages in a clean and safe
environment. We are dedicated to the integration of medicine and fitness to improve community health by focusing on prevention, treatment and rehabilitation of lifestyle related disease.