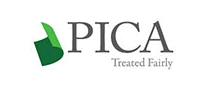 PICA, a ProAssurance Company
PICA, a ProAssurance Company
As a part of the ProAssurance family of companies, our Franklin, TN office provides professional liability insurance to Podiatrists, Chiropractors, Dentists, and Lawyers.
Purpose
As the Employer of Choice, we embrace everyday as a singular opportunity to reach for extraordinary outcomes, build and deepen superior relationships, advance diversity, equity, and inclusion, and accomplish our mission with infectious enthusiasm and unbending integrity.
Vision
We will be the best in the world at understanding and providing solutions for the risks our customers encounter as healers, innovators, employers, and professionals.
Mission
ProAssurance Mission: We Protect Others.
Values
Unbending Integrity

We value integrity above all else. We make decisions, choose actions and use words that are honest, fair and ethical.