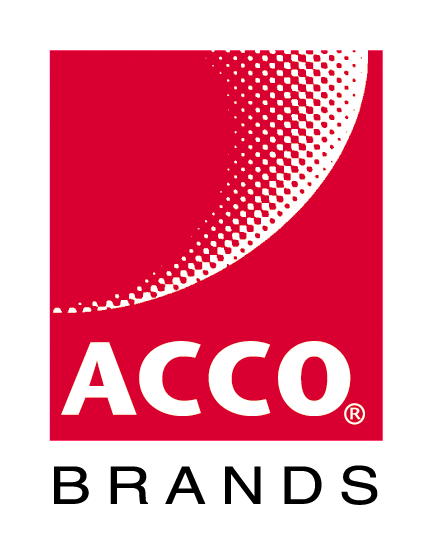 ACCO Brands Corporation
ACCO Brands Corporation
ACCO Brands Corporation (NYSE: ACCO) is one of the world's largest designers, marketers and manufacturers of branded academic, consumer, technology and business products. The products of ACCO Brands can be found in more than 100 countries around the world. As home to more than 20 top brands in their categories – including Artline®, AT-A-GLANCE®, Barrilito®, Derwent®, Five Star®, Foroni, GBC®, Kensington®, Mead®, PowerA™, Leitz®, Quartet®, Rapid®, Swingline®, Tilibra® and Wilson Jones® – the company is poised to continue its global leadership and growth.
Purpose
OUR PURPOSE
We exist to enable our consumers, employees and shareholders to Achieve, Create, Collaborate and Organize (through) Essential Brands, Innovative Products, Smart Investment and Winning Team.
Vision
OUR VISION
Be the best global company in our industry for consumers, customers, employees and shareholders.
Mission
OUR MISSION
Deliver sustained profitable growth with "must-have" products and solutions for Home, School and Office.
Additional Culture Details
We believe our employees are the key to our success which is why ACCO Brands is committed to building a diverse, inclusive workplace. We pay close attention the personal and professional moments that matter most for employees and create an environment in which everyone has the opportunity to thrive. In alignment with our Vision, Values, and Leadership Promise, we make a daily commitment to creating a great place to work. Our work environment is casual, but still professional, which inspires teams to be creative and collaborative. We've also embraced hybrid work arrangements, enabling the majority of our workforce to work two to three days a week from home. Employees are proud of our strong brands and say working here feels like family. We are the HOME OF GREAT BRANDS BUILT BY GREAT PEOPLE.
Values
We are a winning team that:

•    acts with integrity,
•    treats others with respect,
•    embraces diversity,
•    encourages creativity and
•    acts responsibly in our global community.
Company Snapshots